Summer is almost over!!! I'm a bit excited to embark on my 2nd year, although not as excited as I was a year ago. For the record, I have changed my career path, from being a rep to a repair specialist. Darn that title ("specialist"), sounds like I solve crimes better than Gary S.!!! lulz!!!

To be honest, a change in career brings with it a package of RENEWAL! Felt like I was baptized, reborn, rejuvinated!!! I was never as hopeless as I felt before. I pray, constantly do, that I'm on a right track. THE TRACK.


Teradyne has been very challenging for me. A company that puts together "wild" individuals. Let me rephrase that, WILD about their careers!!!

I have witnessed people leaving the company, no reasons of dislike, but them, climbing the ladder, a step higher! Some continue their segmented career path, others change, some a full 360! Nevertheless, I am happy they are making the best possible choice they could ever have.

Forgive the numerous exclamations, my fingers are freezing, and one thing that warms "them" are constant toink toink toink of the "!" mark!!!!!! oops! =D

Anyway, I was blessed to jaunt the ever chocolatey Bohol last month. A day before departure, we were still unsure to GO! ONE, cost was bugging me, only three was sure to go and all the $$$$$$ was to be divided by 3! Economically better to have a bigger divisor! But who's to stop us? past 4 AM, i was shocked by GM standing outside my door, thought i was to wake him up, but the guy seemed to be more excited than i am! lulz

we met kitty-not the cat-at pier4, bought tickets, and boarded a ship, likably suitable for breeding oysters! waaaAAAAAA If there's anything the ship needs, it must be an insurance for tetanus!

the three sat together lined up, to our surprise, a cebu council man sat amongst us! i was pretty sure he was my officem8's bro, but then again, gm wasn't convinced until the gentleman confirmed.

we hailed for tubigon, an almost-2-hour sail. if i was claustrophobic, i could have died within 5 minutes due to panic and total discomfort of the ship's architecture. the ozone tragedy flushed through my memory seeing only a door and a tiny hatch for escape. what will I do with my orange floating "device" if i sink along with the ship?
any idea? please send them to the management.

steve by the way boarded the same ship, we took a van for tagbilaran, and in 30 minutes gm's uncle picked us up in the terminal and headed straight to our 3 day home in st. joseph's village.

10am, the three, ofcourse, me kitty and gm, were ready for the 8 hour trip.

The first scenic pic i took, the car was running while the shot was taken, but good thing, it came out clear.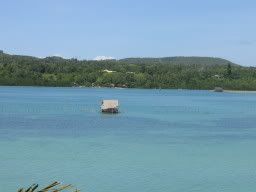 The first spot: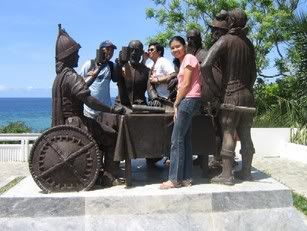 The blood compact site! It wasn't that grand. We took a few shots with the statues and proceeded to the next.


El second!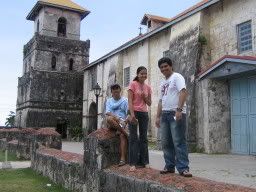 I've never been to old catholic churches before and Baclayon just amazed me with its wooden and stoned architecture. A Relic of the past! A few pictures with the bell tower and we left with a smile!

La Pani-udto: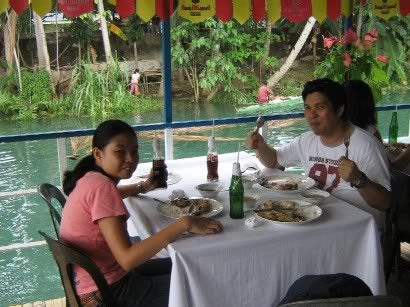 Loboc was fun, and a new way to enjoy lunch - afloat!

The encounter: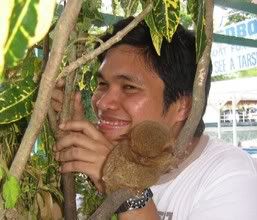 docking after lunch, we never expected to meet the long time content of science books and printed shirts, the tarsier! Yes, very small, and SMELLY!

En-route: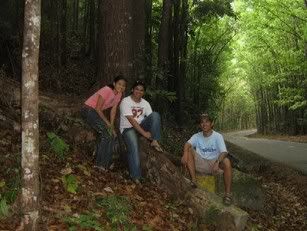 This isn't taken in the states! Man Made Forest, thanks to Marcos' project!

Sagbay-sagbayan!



We skipped the chronology of the itinerary and off we skid to Sagbayan, an almost hour drive from loboc... Sagbayan was, sagbayan! two hills joined by a quasi-great-wall-of-china bridge. A great view of the world famous chocolate hills while enjoying your lunch.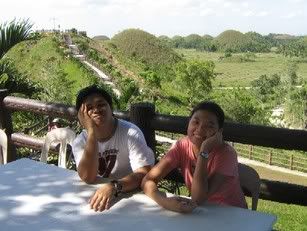 Sagbayan has a strange mirror effect... you have to try it!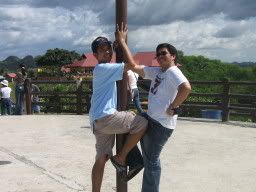 Sagbayan as well offers assistance in career path options, I could be a pole dancer! hahaha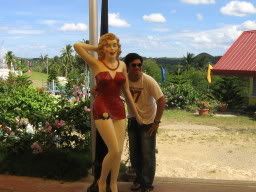 Now, isn't she misbehavin?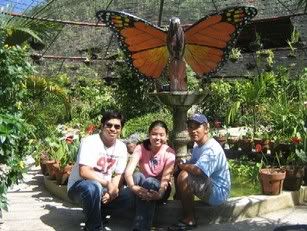 Another thing you shouldn't miss while in Sagbayan, the butterfly dome!

Behold, bohol's CUP A!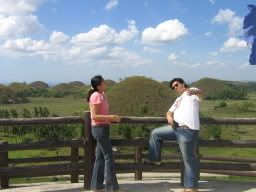 to Carmen...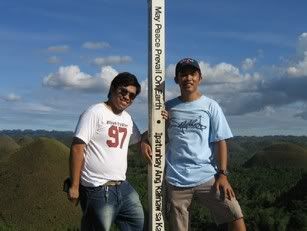 from sagbayan, we traced our way back and dropped by Carmen, THE BEST SITE NEAREST THE CHOCOLATE HILLS!!! I can even say, that those pictures from textbooks were taken from the scenic view in carmen.

Side trip

baclayon to loboc, we passed by a dark corner and one of us was keen enough to eye the sign - LONGEST LIVING CAPTIVE PYTHON. (im not sure if the words are in the proper order)

The snake was an amazing 29 feet. a male! uniquely named EUFRONIO, i guess, if prony - nick- was to be understood, he lived his years in protest. atleast, that is how i felt to be in his shoes, i mean, scales!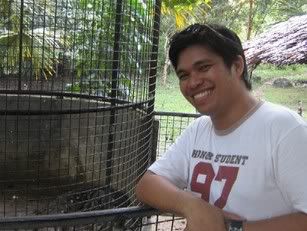 He wasn't moving at all, but the bulging figure in his stomach justifies his inactivity, he was just fed with a mature goat the day before we arrived. We could only imagine prony's frenzy after a monthly feeding interval!

Alona beach, the three of us marched its white sandy beach while constantly confronted by men offering their services! boat rental services! clear your mind!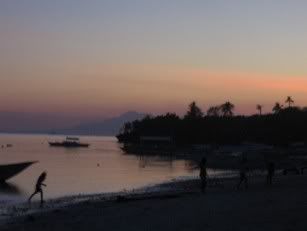 Walking was tiring, so, we spent the rest of the hours staring at the moon, counting the stars, and chasing the planes, while we laid comfy on the sand.

gm's uncle and aunt joined us for dinner around 9pm. While we were focused on the mastication, uncle's (gm's uncle) wife planned to show us bohol plaza and bohol tropics. I calculated, both places will take us more or less a couple of hours before going back to st joseph's village. with my previous experiences, i need to relieve myself from the pressure. *wink*wink*

Good thing, we were guile enough to make excuses so we could head home straight... what a relief for my arse!

10pm, tired enough to move a bone, the couch served its purpose.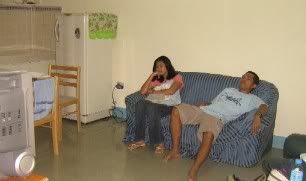 We shared one room to take advantage of the AC. We eagerly rest for the next day's sally.

Pamilacan!!! Yes with the !!!!

4 am, alive and kickin. got on to our most comfortable and beachy (any better spelling in mind?) attire. lolz

A dark cloud loomed over bohol when we left our camera. I could only imagine the memories fading away from paper. To our relief, *uncle* was indeed a boyscout. On his belt hang our saviour. I hope you got what I meant, an extra camera! YAHHHOOOOOOOOOOOOOOO

The moment I saw the wharf, the small boats, and the calm-clear bohol water, I could literraly see dolphins and whales! exageration beside, we were greeted with the cold bohol breeze and its spectacular sunrise.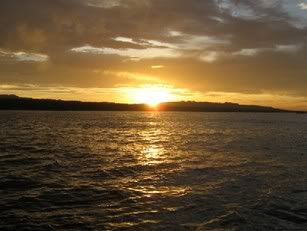 onboard the boat, we got on our safety couture. It's bright orange and got boxes in it.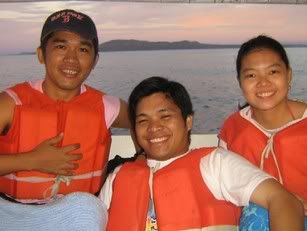 I never thought i'll take us more than 30 minutes to spot dolphins, but it was pretty much exciting when a school popped in. exhillirating! No whales showed up that day, guess it's too early to dislocate our jaws through amazement and awe.

I don't know if you've watched the documentary, Pamilacan island homes to quite a number of whale sharks. The local's livelihood was ofcourse, hunting the butandings down for its meat. To save the whale's from extinction, conservationists taught the locals how to fish for a living, and a good majority accomodate tourists offering food and some -their homes for lodging.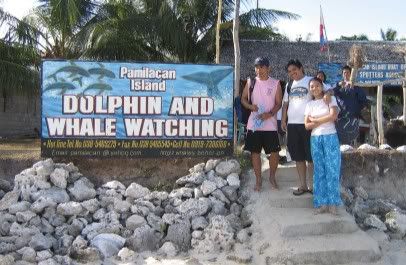 We docked on Pamilacan's white sandy beaches (another good spelling proxy?) around 9am, and to our surprise, a lady hanged *welcome* garlands, kitty profusely refused, presuming she'll pay for it. Anywayz, we felt warmly welcomed and given THE appropriate salutation as we cordially wore the garlands! =D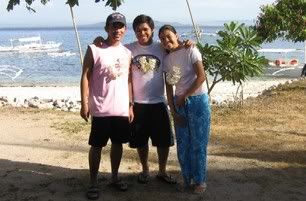 Breakfast was served, fresh tulingan, fresh tolang lapu-lapu, and fresh vegetables!

The next few minutes, we hurried back to sea, a near 100 meter distance from the shores, we anchored and prepared for a skinny dip. hahaha, snorkel ofcourse.

I have never seen the underwater sea in depths beyond 12 feet. As I was snorkeling, Nemo and Ariel's friends came to life. Too bad, no words could best describe the ecosystem I witnessed beneath Pamilacan's restless waves. So i'll leave the imagination to you.

The very moment the sea marvelled its beauty, I wished plastics were never made nonbiodegradable. So Please, Don't Throw Your Garbage At Our Seas and Oceans, Even The Rivers!!!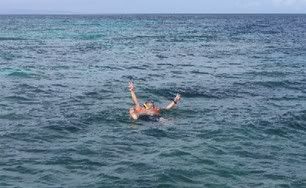 Almost 12noon, everybody was onboard the boat except me. I could never get enough of so much things beneath the surface. But then we have to leave, I got on, and sat on the front part of the boat, anchored both legs on a pole, and enjoyed the wind while we sailed home.

On our way home, I could still smell and taste the sea. Imagine!

Rest, the only thing we had in mind, we almost forgot lunch.

Lunch, we had, and slept until 5pm. 6pm, steve was to pick us up at ICM (island city mall) for dinner at his in-laws' house. We met his wife and baby Raj. Dinner was, WHEW!!! IT WAS GOOD!!! infact, IT WAS THE BEST!!! Home cooked meal at its FINEST! Forgive me for not elaborating on what was served, i'm saving the keyboard from your saliva.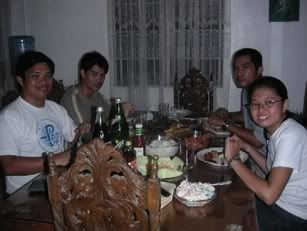 Lately after dinner, steve drove us to a nearby bar, a few drinks with the band and we're back at st joseph's village for a good night's rest. Monday was our plan to be back in cebu, kitty and gm has to be back for work except myself.

6am monday morning, may first, labor day. we can hardly drag our feet back to cebu, we haven't had enough of bohol yet. time and money is playing its cards against us.

around 10am, we were in ICM to buy some tickets for the afternoon trip, all tickets were sold out. too bad!

gm and kitty were hungry, i wasn't, but i needed some adventure... 10 minutes later, we found ourselves in Bohol's Bee Farm restaurant.

This is not the center piece, it's our salad!!! ORGANIC!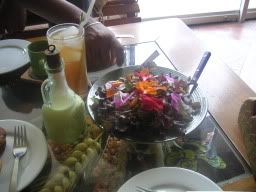 For once, i felt like a goat! Mehehe mehehehe mehehehe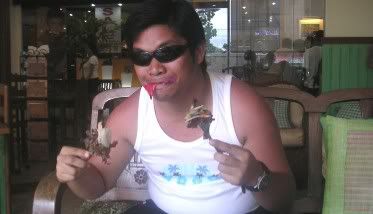 gm's uncle and aunt, being so hospitable and accomodating, begged if we could stay for another day for the tagbilaran's fiesta. I don't know if this rings positively but, we're about to visit 7 homes for lunch!!! I can't get the picture out of my mind, me, eating and phooing on each homes seven times, in one day! hahahaha

anyway, all those we visited were either aunt's friends or relatives. on the third house, i lost my appetite, my stomach was tight, and i fear, it could give in anytime.

there was ofcourse a lot of story telling, and we could only listen and think about weesam's boat sked.

I can't help but transparently show my frustration: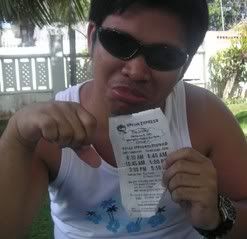 Not even surprised, kitty felt the same way:




.... at the end of the day, yada yada yada, we decided to take the early trip to tubigon and be at the office before 2pm...

Sincerely Yours,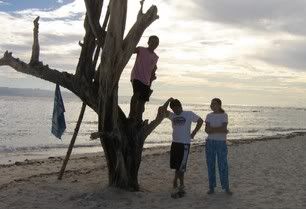 The good, The Bad, and the Monkey! (in reverse chronology) HHAHAHAHA Peace GM!