The prophesy is almost fulfilled, not speaking about the end of the world nor have i won the lottery, but my little blue atm card hungers for nourishment. i'm fearful that the 15 day remuneration no longer suffies my dailies.

well i don't care, *cough*cough*cough*, 'course i do- DENG!

"money i earn is hard earned, therefore money spent should be well spent"

this ain't my motto nor my life verse, but that-i cared to squeeze in my partial roll of daily-quote(s)-to-survive-earth.

so i did...


first i started with work, then i got bored, so school there was, a little later mr. career alarmed and in a little while-shift there was, then i thought there's more to life than work and school, how about sports? so badminton it is-every fridays... but i'll never get enough... who has? who faithfully said, "this will be my last!" and later found himself the same way he was!? YOU? okay....US then...

so so so...last weekend was a blast, not referring to some big-bang boomy explosion but another escapade! yes-yes-yes, bohol was cool as it was extended, but this time, where i've been is as interesting as its name sounds... not just your regular-all-time-afternooooooon snack, nevertheless, elicits the same effect (at least to me)... you can never get enough with the last bite...

anyhow, it all started in the CCC office... again!
let me tell you about the setting... where the planning, research, budgeting, and invitation takes place... most of the time, the invitation needs a little push, so there's this certain little girl who does the persuasion and enticing... "YOU KNOW WHO YOU ARE!" haha and yes I'M YELLING! lulz

sumilon was the original plan, but the 1k budget plus P300 fare for a day's jaunt is kinda....pricey! a more practical alternative came, an island, approx. 3 hours away from cebu, so darn affordable as its counterpart's per-tumpok-price tag. THE CAMOTES!

there wasn't much expectation coz, yours truly ain't certain to go... again, i just spent enough for my caprice, and another expense will surely tip-off the balance...

kitty, joween and jewit has committed, one more person and the ACT is complete!

Friday came, and the decision was made... 4-people-it-is (take note about the number)

Chapter 1

3:13AM, Saturday, June 17 2006. quite surprised if my alarm went-off earlier than set but kitty called...

Kitty: Hello Jayp?! Diin kana?
JP: Aarrrgghhhh, (in a sleepy tone) huh? bag-o lang bugtaw, kaw ya?
Kitty: Manuglakat na eh! Paligo na gane! 4am Sharp man ayhan hambal nila Joween kag Jewit?!
JP: Oo, pa-alarm man ko 3:15 gane, i'll be there 4am sharp... kitanay lang ta didto ha?!
Kitty: Dugay-dugay lang ko guro ah, basi ako lang to isa!
JP: Indi ah, basta, 4am sharp ara na ko didto... K?
Kitty: Sige, kitakits!

…jumped out of bed, swish and splash-done with the bath-swoosshh-done with the get-up-and VRRROOOMMMMMM-taxied to north bus terminal.
whew, i was even 5 minutes early, and kitty with her innocent and anxious-lonely-look quietly sat on one of the plastic chairs not minding the trash can beside-leveled with her head! haha


4:30am came and no sign of the two most willing spirits...
minutes later...as expected, jewit popped-in from a 24x7 drive-thru. we shared her fries while waiting for the person-who'll-kill-me-if-i-don't-show-up!

jewit and i tirelessly barraged THAT person with KkkkkRrrrriiiiINnnnnGggggSssss until 5am, no answer... a gazillion more KkkkkRrrrriiiiINnnnnGggggSssss , again, no Joweeennnn

Sigh! We concluded to postpone the trip and watch lakehouse in the afternoon if we miss one spirit...

The bus was leaving, BUT we can't afford to postpone such adventure.
now, the number is THREE, a lucky number...a prime number... like holy trinity, holy family............the three stooges, three little pigs, three musketeers, three times a lady, three strikes out(baseball)...three dimensions... the list goes on...

We must go... aaannnddd sooo wweeee DIIIIDDDD!!!

We took a 30 minute-50 pesos-Ceres-ride to Danao, and dropped off at the Cathedral... to our surprise, the port going to camotes is directly infront of the Cathedral, just across the street!!! the port to Pamilacan shares the very same position.

The church looks very old... "WE MUST HAVE A PICTURE WITH THAT CATHEDRAL!"... we exclaimed.

The boat, as expected, was a motorized bangka, only 10 times bigger than our Pamilacan-coupe! hehehe The seats sank deep between the wooden hulls and passengers looked like burried ancient-Incas.

we felt like, "easy-escape" was synonymous to "trap" by the looks of it. so we opted to sit on the planks just beside the bridge(driver's room, or whatever) on the aft section of the boat.

it was 6am and the sun, as always, never fails to mesmerize those not-so-morning-persons, that's us! like vigilantes, we took our cameras and shot the sun! nope, i meant, took pictures of the danao SUNRISE! hehehe

I was happy that my camera was revived from comatose!

we were like kids that very hour, we each took pictures and boasted, "I GOT THE BEST SHOT!" anyway, here's a sample of our little kiddie contest: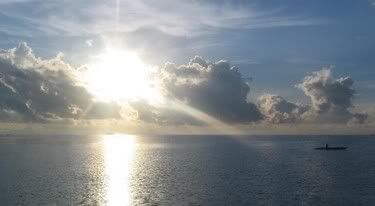 with people like us, good pictures meant OUR PICTURE! lulz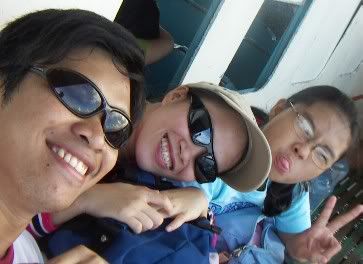 it's an almost hour and 45 minute sail to camotes and it was a fun-filled story time... that little girl... shared the most stories... experiences... and hoolicas... yes, the same girl who did the persuasion et al! hahahahahahahahahahahahahaha

45 minutes from the Danao shores, we rose up from the planks to loosen up our tigthened arse... splashes sounded and people WHOOOOEEEEEEEDDD!!! DOLPHINS!!!! DOLPHINS DOLPHINS!!! and they were even closer than when we were trying to spot them at Pamilacan.

IT WAS A GOOD TREAT! dolphin watching for P150 pesos enroute to the crop island!

an hour later, we docked at Camotes' port. it isn't as developed as what a port should be, but the water was crystal clear. 20 feet below where i stand, i can almost see the corals!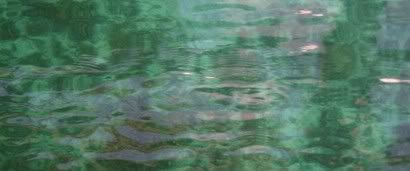 Chapter 2

we took a habal-habal to get to our destination-The Santiago Bay Resort.
Kitty and jewit got on one habal-habal and me, i got myself a chauffer-i wish!!! nah, i too got my butt on another habal-habal.

eric-the driver-was more like a tourism officer than a driver. He spoke of how peaceful camotes is especially when it comes to tourists,

"Wala'y magbinuang dinhi sir, kami mismo makulata nila"-there, he was a policeman.

Time to time, he repeatedly endorsed another resort-Mangudlong Rock Island(or something)- there, he was a promoter.

"Nahan sad ka chicks sir?", now a PIMP! hahaha kidding aside, i found him very polite in answering every question that popped in my head.

some 10 minutes later, we reached Santiago Bay Resort... I was not sure if we were at the right place, judging from the outside, it was just a wall...but the mural cleared my confusion... WE ARE HERE!!!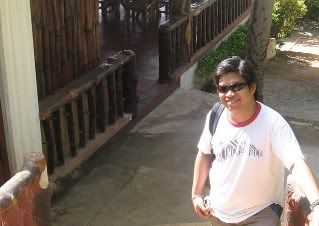 As we reached the reception, jenny (new character) welcomed us and asked if we had a reservation, "We Have!!!" exclaimed the three, but we stared at each other, baffled, "Kinsa nagpareserve?!!!"

Try "Jay", or "Jay Rosales", or "Jovito Rosales"!!! He confirmed we're booked for the 700 Pesos Room for four!

"Sorry Sir, wla jud me kadawat reservation from our Boss kay sya man na muconfirm!" jenny replied politely.

Sad part was, cellular technology was banned from Camotes! kidding, the signal was hard to find, but by a good spot near the drinking-water-fountain, kitty was able to send an SOS to Jovits...

while waiting for jovit's confirmation, all the while, we failed to notice the stunning view of the ebb tide!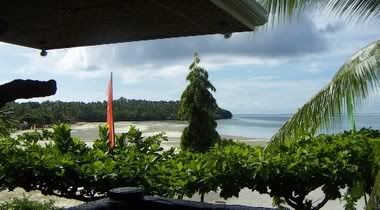 anyway, a reply was almost impossible to receive, the signal was almost sporadic... so we decided to take Jenny's offer of an AC'ed room for two. Cool, i got to sleep on the floor... lulz

hungry-jenny took our orders for lunch as we headed to our room to freshen up for the day...

a quick shower and fresh clothes, we were off to the restaurant to calm our griping tummies.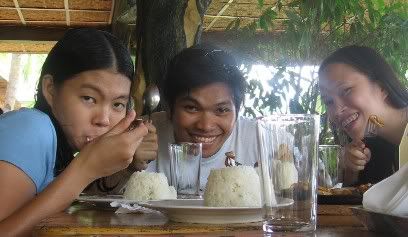 We had sizzling squid, sinigang na baboy, the ever-staple rice, iced tea, and mango shake!

Chapter 3

microseconds later, we headed off to the photoshoot!!! hahaha we were like crazy, and wild about the scenes... we took turns in-front-of-the-camera while Camotes rendered its exquisite beauty!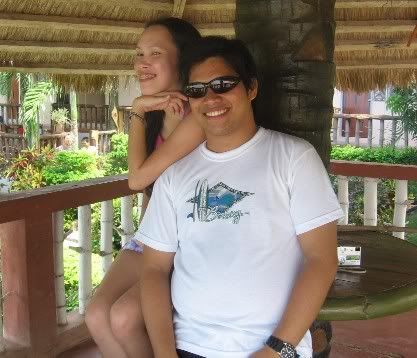 the beach's splendor from above was so irresistible that we raced down the stairs--can't wait to get our feet wet!!!

as far as i know, we're in camotes, not in okinawa-but involuntarily, our muscles contracted until we found ourselves like NINJAs!!! WATTAAHHHHHH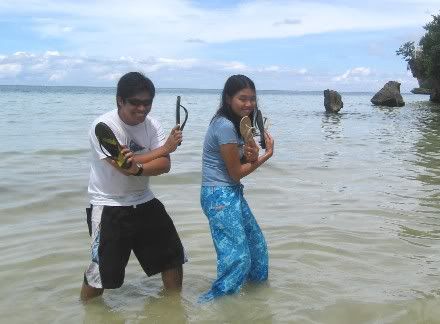 it even makes little girls feel like FHM centerfolds!!!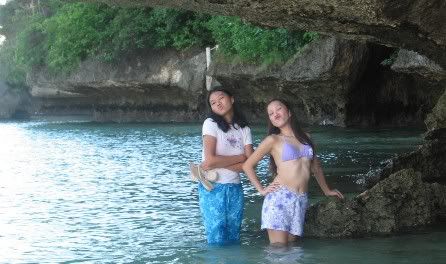 btw, we were lucky enough to be spared from bad sea weather... we were carrying a corpse on board the motorized bangka... a dead toe nail! hahaha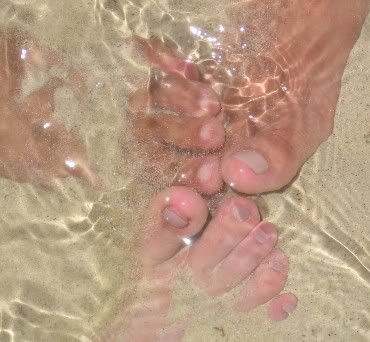 who said we have forgotten what happened 5 hours ago? we kept our idle feelings of revenge, and the sand-as jury-justified who's guilty!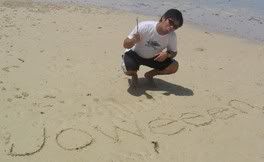 i'm always captivated with reasonably beautiful shores with flags... twitchy winds tossing the flags, oh so AAAAAHHHHHHHHHHHHHHHHHHHH...... ahhhhhhhhhh yessss,,, oh so aaaahhhhhhhhhhhhhhhhh!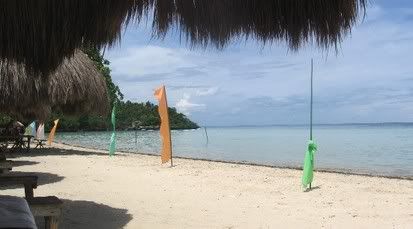 Sneak peak! new hosts for TRAVEL magazine.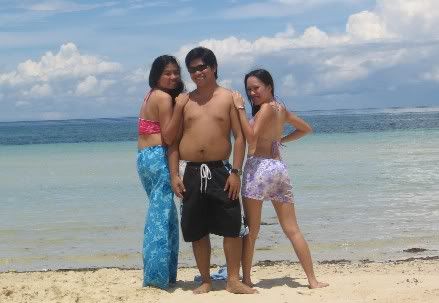 VIVA SEÑOR SANTIAGO!!!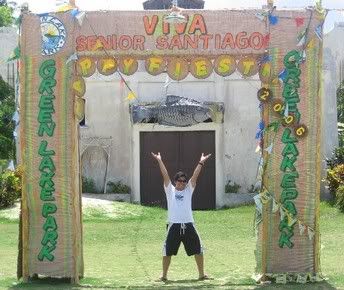 too much fun with the sun, it's too early for sunburn...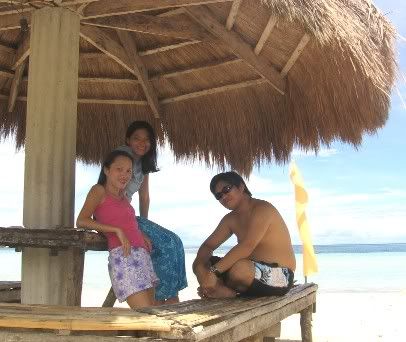 12 noon, the sun was at its peak, and we felt the water's invitation... so we dove in and made love with the waters...

as my memory could recall, kitty didn't enjoy much in Pamilacan... not even with snorkeling.... u know why...

so we taught her the basics... floating!!!

EUURREEKKAAAAA!!! and she did, little by little, she worked on the coordination of her legs, tummy, back, neck and head...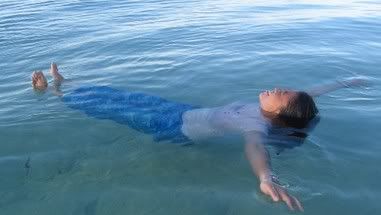 3 hours later, we headed back to our room, tired and sleepy... we have to rest...
but with these ladies, i can't afford to miss out crazy conversations... we spoke of things we like, our dreams, relationships et al... incidentally, look what we have discovered!!!

we share the same mole location...


i was unique though, mine was blue!

Chapter4

6pm, while waiting for dinner, we surveyed the rest of the resort and came up with interesting shots...

there goes the feet again, watch for the toe-corpse! hahaha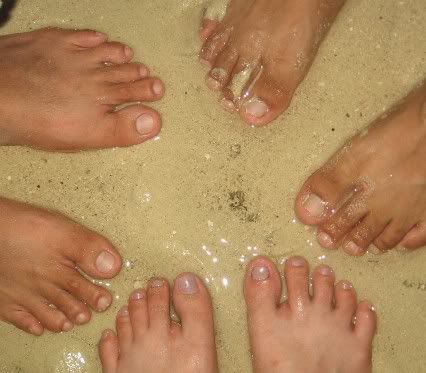 me, i found myself in a cave! haha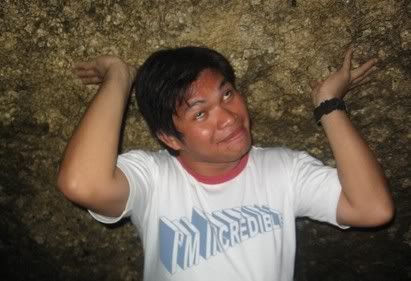 dinner, sinugba, pancit canton guisado et al! hehehe the fish didn't look inviting, but when the scales came off, the smell was intoxicatingly-drooly-delicious!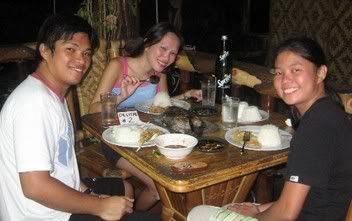 look, we're red and didn't even hurt!

it was a full dinner. small talks, few shots....

outside the room-veranda!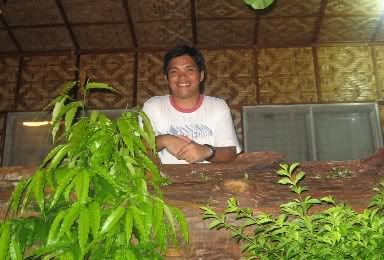 and back to our room...

Chapter 5

the three slept early. we weren't done with swimming yet...
my alarm sounded off-5:30AM!!!

RISE AND SHINE!!!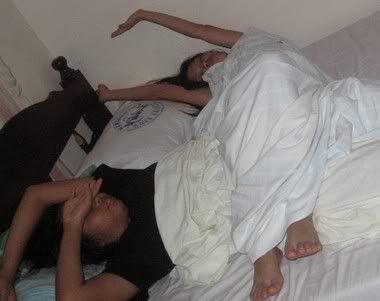 the breeze was in-between-cold-and-warm, and the sun was peeping...
we were off to the other part of the resort, the rocky highlands...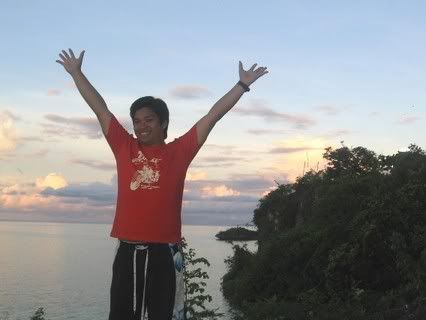 to come...

then off we went…to the shores...

since we didn't witness the sunset, we can't afford to miss the sunrise!!!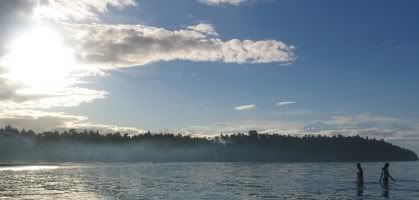 ...while i was enjoying the early morning shots, never was i aware... the key lost me! haha nah, i dropped the key!

so i left the two enjoying the waters and traced my steps back... i must say, i got better shots of the island...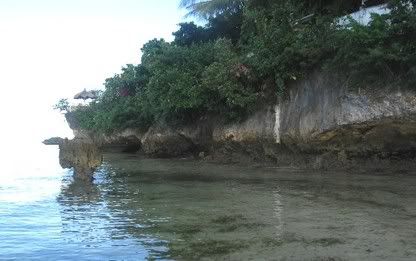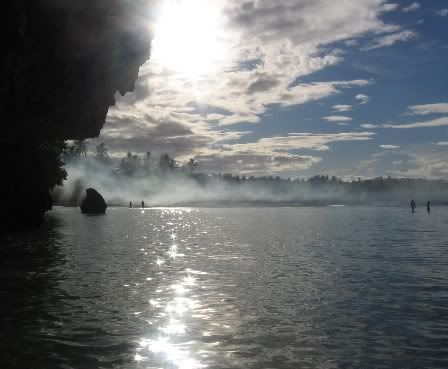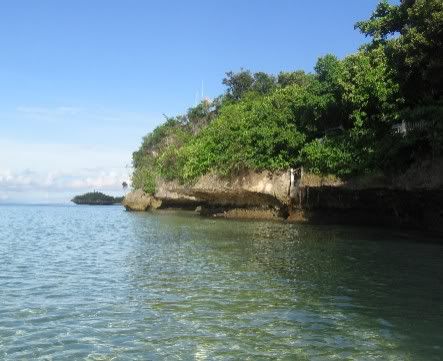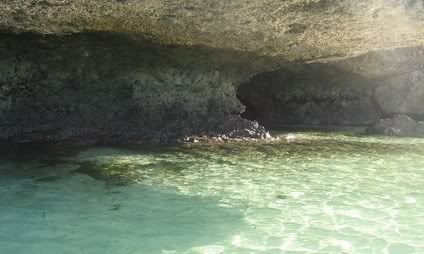 almost 30 minutes... still no key... like sherlock-i imagined the key's behavior if it fell on the water... but the regular-sized key, hanging on a wooden keychain is kinda hard to distinguish amongst the dried leaves...

"if somebody got a hold of that key and got to our room first?" i thought... quickly i ran to our room... and to my relief, it was still locked... i didn't inform jenny about the lost key, and i went directly back to the two little girls in the water... i'll just pay the darn key's replacement...

we had a great time in the water, plus, we shot random music videos and captured kitty's progressive floating style.

Chapter 6

it's 8am, time for breakfast... but the key?!
i was a bit scared of how much it'll cost me for the replacement and penalty... a previous experience...in some hotel... charged 1000 for a lost key-penalty! i just brought with me 1500!!! darn, i won't be able to make it back to cebu without sponging the girls...

"Jen, i lost the key, do you have a duplicate?", i whispered...
"Naa sir", Jenny handed the key over, not telling me about any sort of penalty...
i must know if it'll cost me... "Pila akong bayranan jen para sa yawi?"...
"Ay O, hmmmmmmmmm", jenny hummed... now that "HHHMMMMMMMM" petrified me...

"60 pesos jud na sir, mahal baya ang magpaduplicate dinhi"!
YYYAAHAHOOOOOOOOOO.... i shouted silently... "NO PROBS AH!"

Back at the room, we freshened up, got on our going-home couture and off for breakfast...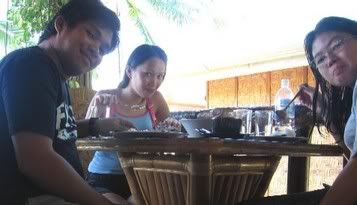 garfield ain't our breakfast, he's after our leftovers...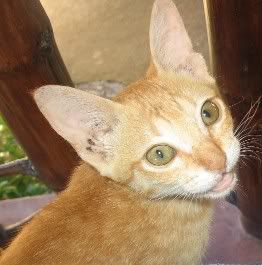 ...we didn't waste the little time we had after breakfast... one last shot for the road!!!



10am, and eric and his buddy was there to pick us up...
we paid our bill(s)... and for a comfortable overnight, 3 scrumptious meals, lots-a-pictures, music videos, and the lost key... 723 pesos PAX!!! WHEW!

our excellent customer service awardee: Jenny and the Paparazzis.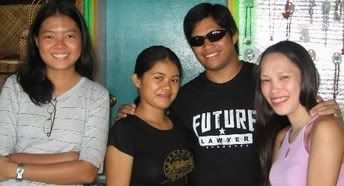 ...even the port wasn't spared from our paparazzic nature...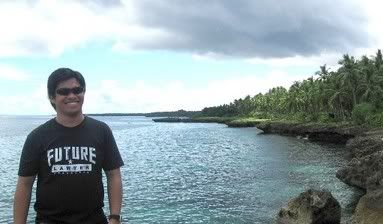 if i wasn't on my way home, i could be jumping with this dare-devlits...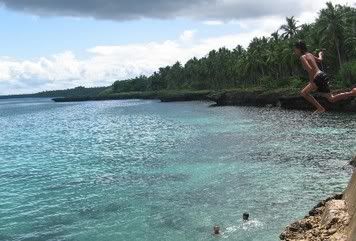 Chapter 7

...the trip back to danao was as silent as a lady's concealed fart... we didn't speak much except for, "EXCUSE ME! weee weee sa ko!" lolz

docking at danao port at almost 1pm, we recalled...while catching the 6am camotes trip, the thought lingered,"WE MUST HAVE A PICTURE WITH THAT CATHEDRAL!"

toink!!!



it took us almost 30 minutes from danao to reach SM... by the way, we decided to have lunch and watch the movie LAKEHOUSE...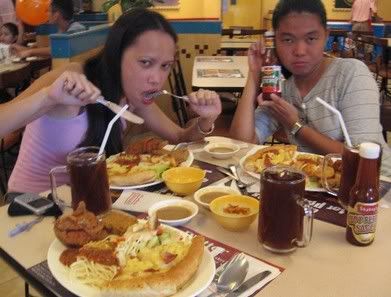 that empty seat is mine!!!

...lunch was ofcourse... delectable...

the movie was great... but nothing beats the hell out of the great time we had... it was fun... it was crazy... it was a threesome...

like i said, three is a lucky number... a prime number... the three soothsayers...